Geoffrey Samuel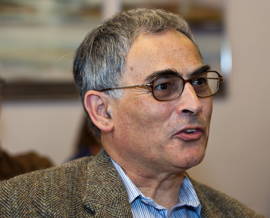 Biographical note
Geoffrey Samuel is Emeritus Professor in the School of History, Archaeology and Religion at Cardiff University and Director of the Body, Health and Religion (BAHAR) Research Group, and an Honorary Associate of the Department of Indian Sub-Continental Studies at the University of Sydney, Australia. From September 2012 to April 2013 he was Tung Lin Kok Yuen Visiting Professor in Buddhist Studies at the University of Toronto, Scarborough, in Canada.
Geoffrey's academic background is in physics and social anthropology. His PhD (Cambridge 1976) was on Tibetan religion and society, and based on field research with Tibetans in Nepal and India in 1971-72. Subsequent fieldwork, focussing on religion and on medical and health practices, has included several further research trips to India, Nepal, Tibet and Bhutan, and shorter visits to other Asian societies.
He is President of the International Association for the Study of Traditional Asian Medicine (IASTAM), and was until recently co-editor of IASTAM's journal Asian Medicine: Tradition and Modernity.
Geoffrey's recent research projects have included a study of Tibetan yogic health practices funded by the AHRC, a Leverhulme Trust project on Tibetan medicine, and a British Academy-funded project on contemporary versions of Tibetan ritual dance in Bhutan, as well as the Taff Project based in South Wales. He was also a co-investigator on Santi Rozario's ESRC-funded project on young Bangladeshis, Islam, marriage and the family.
Geoffrey's CV can be downloaded here. A recent public lecture in the Sydney Ideas Lecture series, Buddhism and a Sustainable World: Some Reflections, is available here as a video podcast. Another lecture, on Tibetan longevity practices, can be downloaded here and viewed here.
Books
Authored Books
1990. Mind, Body and Culture: Anthropology and the Biological Interface. Cambridge University Press, Cambridge and New York. Paperback edition, Cambridge University Press, 2006.
1993. Civilized Shamans: Buddhism in Tibetan Societies. Smithsonian Institution Press, Washington, DC. Currently out of print, but the South Asian edition, from Mandala Book Point in Nepal, will shortly be reprinted.
2005. Tantric Revisionings: New Understandings of Tibetan Buddhism and Indian Religion. Delhi: Motilal Banarsidass; London: Ashgate.
2008. The Origins of Yoga and Tantra: Indic Religions to the Thirteenth Century. Cambridge University Press, Cambridge and New York.
2012. Introducing Tibetan Buddhism. Routledge. Also available as a JBE Online Book..
Forthcoming. Seed of Immortal Life: Contexts and Meanings of a Tibetan Longevity Practice. Co-authored with Cathy Cantwell, with contributions by Robert Mayer and P. Ogyan Tanzin. Kathmandu: Vajra Books.
Edited Books
Edited Special Journal Issues
2010. From Village Religion to Global Networks: Women, Religious Nationalism and Sustainability in South and Southeast Asia, edited by Santi Rozario and Geoffrey Samuel. Special Double Issue of Women's Studies International Forum (vol.33, no.3)
2011. Special issue of Contemporary Islam, 'Islamic Piety and Gender Relationships among Contemporary Muslims,' edited with Santi Rozario. Vol.5 no. 3, pp.219-322.
Special Issue of International Journal of Hindu Studies, 'Contextualizing the History of Yoga in Geoffrey Samuel's The Origins of Yoga and Tantra: A Review Symposium,' edited with Stuart R. Sarbacker. Vol.15, no.3, pp.303-357.
2012.Special issue of Culture and Religion, 'Finding Muslim Partners, Building Islamic Lives: Young South Asian Muslims At Home and in the Diaspora,' edited with Santi Rozario. Vol.13 no.2, pp.137-272.
2013. Special Issue of Asian Medicine: Tradition and Modernity, 'Cultivating Perfection and Longevity in Asian Traditions,' edited with Vivienne Lo. Vol.7 no.1, pp.i-xiv, 1-290.
2013, in press. Special Issue of East Asian Science, Technology and Society (EASTS), 'Contemporary Issues in the Anthropology of Tibetan Medicine,' edited with Colin Millard. Volume 7 no 3.
Translated Books
1980. English Translation of Giuseppe Tucci, The Religions of Tibet, Routledge and Kegan Paul, London and University of California Press, Berkeley. Paperback edition, University of California Press, 1988.
1980. English Translation of Walther Heissig, The Religions of Mongolia, Routledge and Kegan Paul, London and University of California Press, Berkeley
Other Publications
Geoffrey's CV contains a full publication listing.
Recent and Current Funded Research projects
2005-7 Australian Research Council Discovery Grant for three-year field research project, 'Muslims and Christians: Women, Religious Nationalism and Sustainability in the Asia-Pacific region.' (jointly with Dr Santi Rozario and A/Prof Hilary Carey; total amount for 2005-7, A$125,104; resigned from grant after moving to UK but continued to be part of project)
2005-6 British Academy Grant for 18-month project, 'Musical Form and Ritual Meaning in the Phur-pa Ritual Cycle of the Tibetan Bon-Po Religion.' (Joint project with Prof. Ricardo Canzio, National Taiwan University; £3571, matching grant from National Science Council, Taiwan.)
2006-9 Arts and Humanities Research Council Research Grant for 3-year project, 'Longevity Practices and Concepts in Tibet: A Study of Long-Life Practices in the Dudjom Tradition.' (£205,801.)
2007-8 British Academy Grant for 1-year project, 'Early Tibetan History: Towards an Edition of the Chronicle of dBa' (with Dr Michael Willis). (£7500.)
2008-10 Economic and Social Research Council Research Grant for 3-year project, 'The Challenge of Islam: Young Bangladeshis, Marriage and Family in Bangladesh and the UK' (with Dr Santi Rozario). (£348,636.)
2008-11 Leverhulme Trust Grant for 3-year project, 'Tradition and Modernity in a Bon-po Medical School and Hospital in West Tibet'. (£150,256.)
2010-11 British Academy Grant for 1-year project, 'The creation of a new Bhutanese festival: The December 2010 Dochula Commemoration'. (£6813.)
Other Web Pages