Body, Health and Religion Research Group (BAHAR)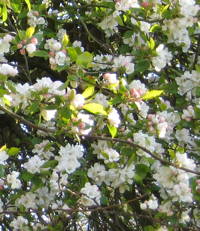 New Book to Appear in March 2013
Religion and the Subtle Body in Asia and the West: Between Mind and Body, a collection of articles edited by Geoffrey Samuel and Jay Johnston, and including contributions by several other BAHAR members and friends, including Angela Sumegi, Barbara Gerke, Alejandro Chaoul, Crystal Addey, John Bramble, Susan Greenwood and Ruth Barcan, is to be published by Routledge in March 2013. Further details here.
Recent Publications
Geoffrey Samuel's Introducing Tibetan Buddhism, was published by Routledge in April 2012. It will also be available from Journal of Buddhist Ethics as a JBE Online Book. Introducing Tibetan Buddhism is an introduction to religion in Tibetan society aimed at undergraduate students and general readers. There is also a web-page of resources associated with the book.
For details of BAHAR member Des Barry's new book see the BAHAR Blog.
Volume 5 no 3 of the Springer journal Contemporary Islam is a special issue edited by Santi Rozario and Geoffrey Samuel, based on a conference panel in Sydney in December 2009. The topic of the special issue is Islamic Piety and Gender Relationships among Contemporary Muslims.
The edited volume Medicine Between Science and Religion: Explorations on Tibetan Grounds was recently published by Berghahn. Mona Schrempf, who is a BAHAR member, is one of the editors, and the volume includes contributions by two other BAHAR members, Barbara Gerke and Geoffrey Samuel. The attached flyer gives further details, and also offers a 50% discount on the purchase price until 15th February.
Volume 33, issue 4 of Women's Studies International Forum, published in July-August 2010, is a special issue edited by Santi Rozario and Geoffrey Samuel on the theme, 'From Village Religion to Global Networks: Women, Religious Nationalism and Sustainability in South and Southeast Asia'. It contains an introduction by Geoffrey and Santi, along with thirteen papers by scholars from the UK, USA, Australia, Bangladesh and India. most of them deriving from a workshop organised at Delhi University in Oct-Nov 2007. The table of contents can be found here.
"The Varieties of Ritual Experience," edited by Jan Weinhold and Geoffrey Samuel , Section IV (pp.297-569) of Ritual Dynamics and the Science of Ritual. Volume II - Body, Performance, Agency and Experience (general editors Axel Michaels et al.), has just been published by Harrassowitz. This publication derives from the 2008 Heidelberg conference, Ritual Dynamics and the Science of Ritual, and contains papers by a number of BAHAR members. A flyer with some details can be downloaded here; BAHAR members with papers in this volume include Angela Sumegi, Barbara Gerke, Geoffrey Samuel, Jan Weinhold, Jay Johnston and Yolanda van Ede.
Another recent edited volume with strong BAHAR connections is Spirit Possession and Trance: New Interdisciplinary Perspectives, edited by Bettina E. Schmidt and Lucy Huskinson (Continuum, 2010). BAHAR members with items in this volume, apart from Bettina herself, include Graham Harvey, Geoffrey Samuel, Crystal Addey and Sarah Goldingay.
Other recent books by BAHAR members include Margaret Gouin's Tibetan Rituals of Death: Buddhist Funerary Practices (Routledge, 2010), Susan Greenwood's The Anthropology of Magic (Berg, 2009; see also BAHAR blog entry), and Geoffrey Samuel's The Origins of Yoga and Tantra: Indic Religions to the Thirteenth Century (Cambridge University Press, 2008).
Ann David has a new book chapter, 'Gendered Dynamics of the Divine: Trance and Possession Practices in Diaspora Hindu Sites in East London,' in Summoning the Spirits: Possession and Invocation in Contemporary Religion, pp.74-90. (I.B. Tauris, 2010), and Ronit Yoeli-Tlalim has a new article, "Tibetan 'Wind' and 'Wind' Illnesses: Towards a Multicultural Approach to Health and Illness," in Studies in History and Philosophy of Biological and Biomedical Sciences vol. 41 (2010) 318-324.
Forthcoming Publications
Geoffrey Samuel, Cathy Cantwell and Rob Mayer are working on Seed of Immortal Life: Contexts and Meanings of a Tibetan Longevity Practice, a major publication from the AHRC-funded BAHAR project 'Longevity Practices and Concepts in Tibet,' to be published by Vajra Books, Kathmandu.

Page revised 7 January 2013
by Geoffrey Samuel.