Longevity Practices and Concepts in Tibet
Introduction
This major research project, 'Longevity Practices and Concepts in Tibet: A Study of Long-Life Practices in the Dudjom Tradition', was funded by the Arts & Humanities Research Council (AHRC), and ran from September 2006 to September 2009. It formed part of a wider programme of research initiatives within the BAHAR research group.
Project Staff and Consultants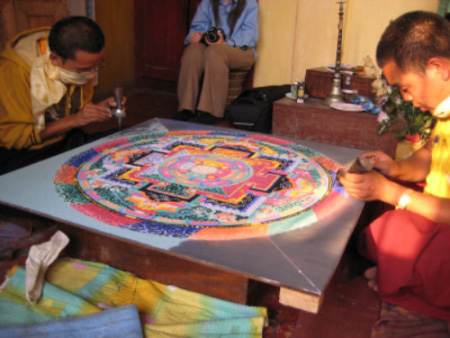 Prof Geoffrey Samuel (Director)
Dr Cathy Cantwell (Senior Research Fellow)
Dr Rob Mayer (Senior Research Fellow)
Lopön Ogyan P. Tanzin (Consultant)
Lama Kunzang Dorjee (Consultant)
Dr Barbara Gerke (Project Associate)
Aims of Project
A long and healthy life is a major goal for Tibetans as for other peoples, and Tibetan Buddhism, as a central resource for Tibetan life, provides many techniques and procedures for achieving this desired goal. These techniques and procedures involve complex and sophisticated processes of mental and bodily cultivation, intended to restore and strengthen the individual's life-energy and to counter negative influences, along with the use of herbal and natural substances. They have received little attention in comparison with aspects of Tibetan religion focussed on enlightenment and other-worldly goals.
This project, which received funding of £205,801 from the UK Arts and Humanities Research Council between September 2006 and September 2009, examined the Chimé Sogtig ('Seed of Immortal Life'), a body of texts, rituals and techniques of long life originating from the beginning of the 20th century, and developed and propagated by a well-known 20th century lama, Dudjom Rinpoche (1904-87). Dudjom Rinpoche left Tibet for India and Nepal in 1958. He had many students and followers, and the associated tradition is now widespread among Tibetans and overseas Chinese, and increasingly also in the West. Our detailed study of these texts provides an entrée into the wider field of Tibetan concepts and practices about health and long life, as well as a basis for systematic comparison with approaches of neighbouring cultures, particularly India and China. While there has been extensive mutual borrowing and sharing of approaches between these cultures, each has developed its own characteristic approaches. Tibet has been the least studied, and our material now offers a much more detailed understanding of Tibetan longevity practices than was previously available.
The principal investigator, Samuel, has worked extensively on the social, cultural and medical anthropology of Tibetan societies, as well as on wider issues of 'shamanic' and ritual healing. The project forms part of a wider research grouping on the Body, Health and Religion (BAHAR) that Samuel has built up at Cardiff, with particular emphasis on Asian medical and yogic practices aimed at healing, on Western adaptations, and on developments of such practices within the field of complementary and alternative medicine. BAHAR projects include textual research and also work in medical anthropology and related social science disciplines. Samuel's co-researchers, Mayer and Cantwell, are established Tibetan scholars in their own right, with extensive experience working with Tibetan Buddhist texts.
In the course of the project, two visits were made to Kalimpong in India, where Dudjom Rinpoche lived for many years, and now a major centre for the Dudjom tradition, by Samuel in Jan 2007, and by Samuel, Cantwell and Lopön Ogyan P. Tanzin, a senior Tibetan lama with close links to the Dudjom tradition who acted as consultant to the project, in Feb-Mar 2009. Additional assistance was provided by three visits to the UK by Lopön Ogyan P. Tanzin, and a further visit by Lama Kunzang Dorjee, director of a monastery in Kalimpong where the project team documented a major longevity ritual in Mar 2009. Dr Barbara Gerke,another BAHAR member, who was carrying out a parallel project on contemporary Tibetan uses of longevity practice as part of her DPhil research at the University of Oxford under Geoffrey Samuel's supervision, gave further very valuable assistance and advice.
The research has led to a substantial number of conference papers, journal articles and book chapters. A book authored jointly by the project team will provide a detailed presentation of the Chimé Sogtig in its historical and cultural context. A second book by Samuel will give an extended anthropological treatment of issues raised by Tibetan longevity practice, while an edited special issue of Asian Medicine: Tradition and Modernity will explore comparisons with related techniques and practices in China and India. The research project has enabled Samuel to develop his own earlier work (e.g. Mind, Body and Culture, 1990) into an innovative approach to ritual and other non-medical approaches to healing.
Debates about the nature of good health, the role of mental and physical factors and of the environment, and the place of complementary and alternative medicine are increasingly significant within British society. We see this project and the wider BAHAR programme as contributing to rethinking in this area and are working to make our results available to the wider public.
There is some discussion of this project in Geoffrey's recent public lecture in the Sydney Ideas Lecture series, Buddhism and a Sustainable World: Some Reflections, available here as a video podcast.
Paper at ICTAM, Bhutan, September 2009. (1) Download (2) View

Page revised 20 february 2011
by Geoffrey Samuel.